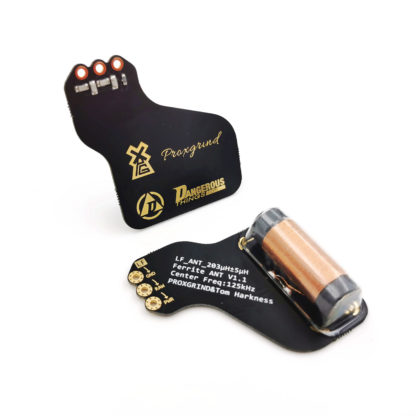 ProxLF antenna for the Proxmark3 RDV4
The ProxLF antenna is finally here! Designed exclusively for use with the proxmark3 rdv4, this 125kHz "LF" antenna is so powerful, it can talk to our 125kHz implants like the xEM and NExT from 2cm away! It's even so powerful it can even talk to the xEM while it is still inside the injection assembly needle! GET IT!
More Details

This bundle is back in stock and orders are now shipping;
however, supplies are limited
$35.00 – $99.00
Sale!
More Details
Our 125kHz implants like the xEM and NExT contain the T5577 chip, which is capable of emulating many different types of 125kHz ID chips including EM41xx, EM42xx, HID ProxCard, Indala, AWID, and others. However the T5577 chip does not support tear protection, so if you attempt to change the configuration of the T5577 without a good coupling (i.e. a good matching antenna on the reader), it's possible to "brick" the chip so it will not communicate properly. Take heart! The ProxLF is specially designed with a cylindrical inductor that shapes the lines of magnetic flux to perfectly couple with the small cylindrical antennas inside our x-series chip implants.
Bundles
What good is an antenna all by itself?!
ProxLF + NExT – Get the ProxLF antenna with a NExT (and accessories) at a great discount!
ProxLF + Proxmark3 RDV4 – You can't use the ProxLF without a Proxmark3 RDV4!
ProxLF + Proxmark3 RDV4 + NExT – Get everything you need to start cloning stuff to an implant!