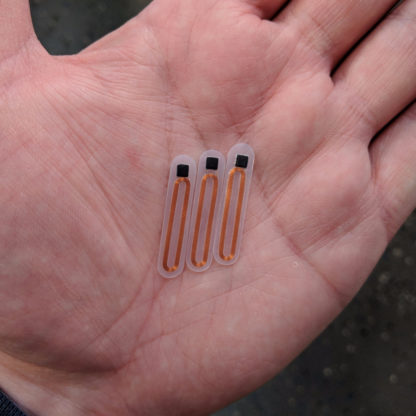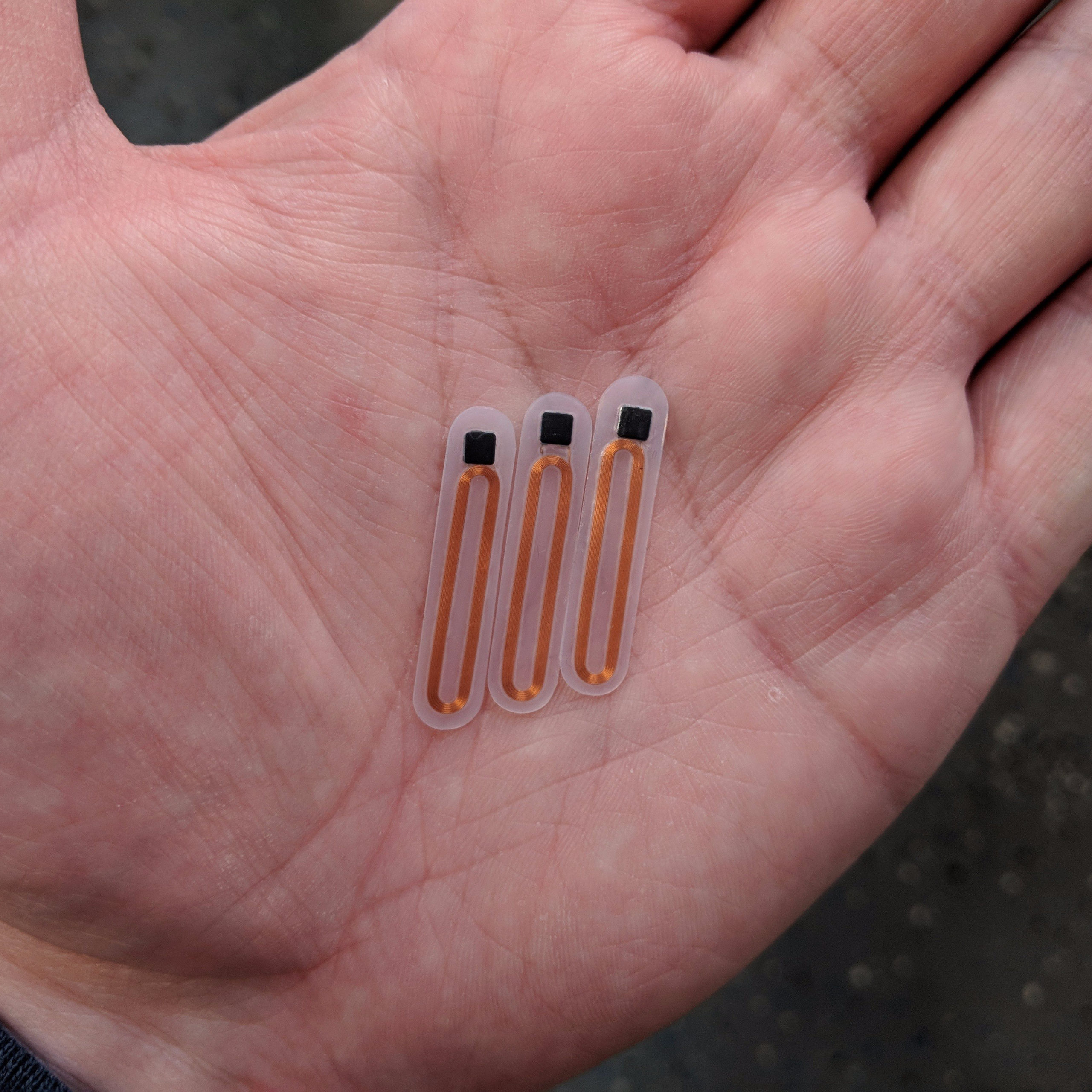 flexDF NFC Chip
13.56MHz ISO14443A & NFC Type 4 DESFire EV1 chip
7mm x 32mm x 0.5mm flexible biopolymer package
$149.99
Out of stock
More Details
WARNING
This kit definitely contains dangerous things. While the biopolymer used to encapsulate our flex products is USP Class VI and ISO 10993 certified, our flex products have not been tested or certified by any regulatory agency for implantation or use inside the human body. Use of this device is strictly at your own risk.
The flexDF is one of our next generation, high performance, RFID and NFC compliant transponders. The flexDF is coated in USP Class VI, ISO 10993 tested biopolymer which gives it an extremely thin profile and semi-flexible structure suitable for installation just about anywhere. The DESFire EV1 8kB NFC Type 4 multi-application chip inside the flexDF allows large, cryptographically secured data storage. They are shipped in small sealed plastic tubes with chlorhexidine solution.
Professional installation notes
Installation of a flexDF device should always be done by a professional.
Do not install under any gripping surface (e.g. no palm side installations)
Do not install atop or parallel to any joints (flex devices are only "semi-flexible")
Important things to know about the flexDF
– The biopolymer is ISO 10993 and USP Class IV tested and certified, however the final product has not been tested post-processing, meaning material changes during processing could render the final product unsafe in some way. Testing is planned for later, however beta testers have had the flexNT since April 2016 and report no issues. Dangerous Things founder and CEO Amal Graafstra underwent the first installation of a flexNT beta device on 03/02/2016 above the second metacarpal of the middle finger of his left hand. So far the installation has healed excellently and there are no signs of rejection or irritation at the installation site.
– There is no "preferred" location for installation of a flex device. Customers are free to install a flex into any area of the body their installation professional is comfortable with, as long as it is in the fascia layer between dermis and muscle tissue and not in an area of flexion or under a gripping surface. Even though we use images which suggest installation above the second metacarpal of one of the fingers, it is not an ideal location for such a device. Fingers are filled with tendons, nerve bundles, and very important things all packed into a very tight space. We urge you to think about easier locations like the back of the hand or in the arm/wrist.
The DESFire EV1 chip
MIFARE DESFire EV1 (MF3ICD(H) 21/41/81), a Common Criteria (EAL4+) certified product, is ideal for service providers wanting to use secure multi-application smart cards in public transport schemes, access management or closed-loop e-payment applications. It is fully complies with the requirements for fast and highly secure data transmission, flexible memory organization and interoperability with existing infrastructure. MIFARE DESFire EV1 is based on open global standards for both air interface and cryptographic methods. It is compliant to all 4 levels of ISO/IEC 14443A and uses optional ISO/IEC 7816-4 commands. Featuring an on-chip backup management system and the mutual three-pass authentication, a MIFARE DESFire EV1 card can hold up to 28 different applications and 32 files per application. The size of each file is defined at the moment of its creation, making MIFARE DESFire EV1 a truly flexible and convenient product. Additionally, an automatic anti-tear mechanism is available for all file types, which guarantees transaction-oriented data integrity. With MIFARE DESFire EV1, data transfer rates up to 848 kbit/s can be achieved, allowing fast data transmission.
The main characteristics of this device are denoted by its name "DESFire": DES indicates the high level of security using a 3DES hardware cryptographic engine for enciphering transmission data and Fire indicates its outstanding position as a fast, innovative, reliable and secure IC in the contactless proximity transaction market. Hence, MIFARE DESFire EV1 brings many benefits to end users. Users can experience convenient contactless ticketing while also having the possibility to use the same device for related applications such as payment at vending machines, access control or event ticketing. In other words, the MIFARE DESFire EV1 silicon solution offers enhanced consumer-friendly system design, in combination with security and reliability.