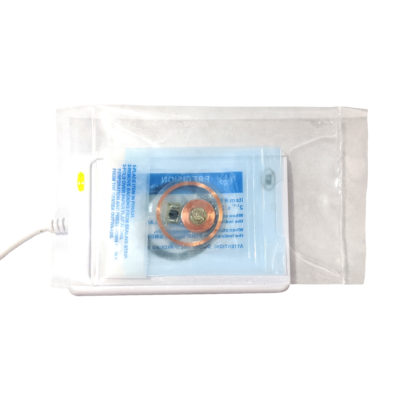 flexMT (Magic 1k + T5577)
The flexMT is a monster built for performance, and a little bit of flash 😉
0.4mm thin biopolymer, 33mm total diameter
30mm Magic 1k gen1a ISO14443A chip
Magic 1k has 2″ (50mm) range with ACR122U
T5577 has 2.75″ (70mm) with RedBee LF reader
Optional 13.56MHz blinky lights !!!
$199.00
More Details
WARNING This kit definitely contains dangerous things. The flexMT transponder has not been tested or certified by any regulatory agency for implantation or use inside the human body. Use of this device is strictly at your own risk.
The flexMT is a jumbo size flex combination of our easily injectable 3mm diameter xM1 magic 1k and our 2mm injectable xEM T5577 chips. Now you can fully program the ID (serial number) and application memory in both ISO14443A and 125kHz chips a single implantable device with excellent performance and blinky lights too!
What can this chip implant do?
• Copy other LF and HF chip IDs to this chip
• Some types of access control applications
• Scan this chip implant to log into your computer
What this chip implant can't do
• Share data with NFC enabled smartphones
• Trigger events on NFC devices like smartphones
• Can't make payments with this chip implant
• Chip implants can't be used for GPS or tracking
Professional installation notes
Installation of a flexMT device should always be done by a professional. We do not presume to know better than your professional installer what the correct installation method for your body and desired implant location might be. Always defer to your installation professional's opinion on placement and installation procedure.
Do not install under any gripping surface (e.g. no palm side installations)
Do not install atop or parallel to any joints (flex devices are only "semi-flexible")
The flexMT's construction gives the final product a slight warping effect. This can be used to your advantage by encouraging the flexMT to conform more easily to modest curves than a perfectly flat device.
For more information about the Magic 1k gen1a chip inside the flexMT, please read the xM1 product page. For more information about the T5577 emulator chip inside the flexMT, please watch this video.