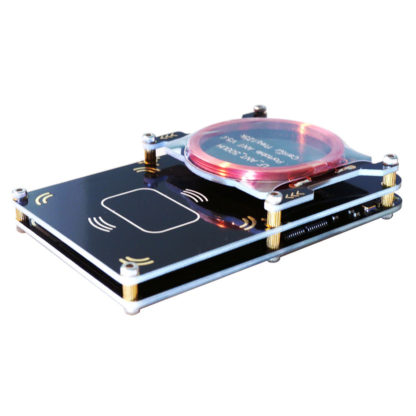 Proxmark3 Easy (Iceman/RRG)
Get the famed Proxmark3 Easy but with 512kB of memory and the Iceman / RRG bootloader and firmware image PRE-LOADED! No messing around with cascaded Chinese bootloader upgrades to finally get a decent firmware on your proxmark3, we've done the hard work for you! Be sure to read the getting started guide!
Proxmark3 Easy 512kB memory
Iceman / RRG 2020-09-24 release
A collection of cards and fobs
$79.00
More Details
The Proxmark3 is the defacto standard RFID diagnostic, testing, and programming tool. The Iceman/RRG firmware is considered to be the pinnacle of features and functionality, enabling a huge range of extremely useful and convenient commands and LUA scripts to automate chip identification, penetration testing, and programming.
NOT COMPATIBLE WITH PROXLF – The ProxLF antenna is specifically designed for use with the RDV4 version of the Proxmark3 open source diagnostic tool. The design of the RDV4 version of Proxmark3 allows for modular antennas, which places the tuning capacitors of the antenna network on the antenna module. All other Proxmark3 units, including the "Easy" version, do not have modular inductor antennas. It is not possible to use the ProxLF antenna with any other version of Proxmark3 except the RDV4 version, and we are no longer bundling the RDV4 version or carrying it in inventory.
Iceman
Chris "Iceman" Herrmann is one of many open source developers for the proxmark3 platform, but his work extends beyond simple fixes into major overhauls of the feature set and user interface. His work is invaluable to proxmark3 hardwware owners, and he deserves your support. Find him @herrmann1001, but more importantly you should subscribe to his Patreon channel for at least a couple bucks a month.
Getting started
If you are new to the Proxmark3, saying that the Proxmark3 is a notoriously unfriendly device is still an understatement. For starters, it comes with no software at all.. you must compile the firmware and client software yourself. Doing this on Windows requires some special preparation.
Please read the Getting started with the Proxmark3 Easy forum post.