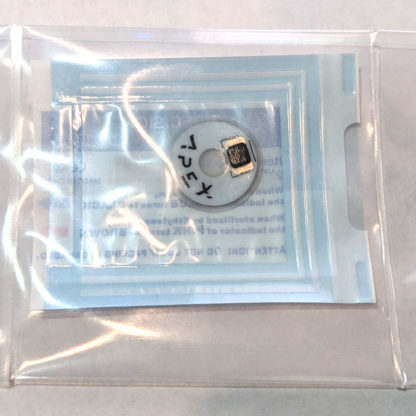 VivoKey Apex MEGA
The VivoKey Apex Mega is the ultimate cryptobionic platform for digital identity, cryptography, and blockchain applications secured in a subdermal NFC implant.
24mm diameter subdermal security key
JCOP 4 OS supporting Java Card 3.0.5 applets on ~80KB EEPROM
Common Criteria EAL 6+ and other national certification schemes
User friendly secure applet deployment provided by Fidesmo
PRIVATE SALE – The Apex Mega is currently a private sale for special members of our community.
$389.00
The Apex Mega is a large format disc shaped version of the Apex Flex product from VivoKey Technologies. The Apex chip is a patent pending subdermal security key enabling always available, fully autonomous separation of cryptographic functions from vulnerable general computing platforms such as your smartphone or computer. The ability to carry your OTP authenticator, PGP, and other cryptographic keys, and perform cryptographic functions all in vivo (generate OTP codes, encrypt & decrypt data, etc.) without ever revealing private keys to the NFC interface you are interacting with is a huge step forward for personal digital identity and data security.
Apex Mega production
The Apex Mega implant is manufactured using small batch production in the USA. After inspection and cleaning, it is sealed in a Tyvek sterilization pouch with a process indicator, then processed with gas plasma to sterilize. A lot label is placed on the pouch with processing and product details, and the pouch is sealed inside a polymer pouch to help protect the sterilization pouch from contamination during storage and shipment.
Use of your Apex Mega
Once you have your Apex Mega installed, grab your smartphone. Install the VivoKey Apex Manager app and the Fidesmo app. Open the Fidesmo app, scan your Apex Mega, and you will see a list of supported applets you can deploy to your Apex. Applets are available from multiple vendors on the Fidesmo platform, and VivoKey also publishes their own applets such as our OTP applet and NFC Sharing applet.
VivoKey Applets
VivoKey has created a number of applets to run on your Apex! Here are some links;
• OTP Authenticator – This One Time Password applet replaces many two-factor Authenticator applications that store and generate OTP codes on the phone itself, making them vulnerable to loss, theft, etc. With the OTP applet running on your Apex, you only have to install Apex Manager on ANY smartphone to generate and display your OTP Authenticator codes, without risk of compromising your security.
• Tesla Keycard – Once installed, you can register your Apex as a keycard with your Tesla 3, Y, X*, S* and use it to get in and drive away. *2021 or later Model X and S only.
• NFC Share – You can easily share data with people with a simple tap of their smartphone to your Apex! You can share things like URLs, vCard digital business cards, or even raw binary or text data. Available data sizes range from 1kB to 32kB!
Other applets like U2F, FIDO2, and PGP are also available! Check out the complete list at vivokey.com/apex.
ATTENTION – Fidesmo Pay is not supported for Apex Flex or any implants. Payment features are only enabled for EMV certified products which have been approved by Mastercard and/or Visa payment networks. At this time, there are no payment networks that have authorized implantable payment devices.
Professional installation notes
The Apex Mega is approximately 24mm in diameter, with an average thickness of 0.4mm. Installation should always be done by a professional.
Do not install under any gripping surface (e.g. no palm side installations)
Do not install atop or parallel to any joints (flex devices are only "semi-flexible")
Scalpel procedure
Make a 24mm wide incision in skin
Lift & separate dermal layer using elevator tool
The subdermal "pocket" should be at least 30mm deep
Remove all tools from installation site
Slide flex device under skin with sterile gloves – no forceps or tools
Suture to close wound – do not pierce flex device while suturing
Important things to know about Flex devices
• The biopolymer is ISO 10993 and USP Class IV tested and certified, however the final product has not been tested post-processing, meaning material changes during processing could render the final product unsafe in some way.
• There is no "preferred" location for installation of a flex device. Customers are free to install a flex into any area of the body their installation professional is comfortable with, as long as it is in the fascia layer between dermis and muscle tissue and not in an area of flexion or under a gripping surface. However, the side or edge of the hand is not recommended due to increased tension in that location. Work with your professional to determine the best, safest location for your flex device.