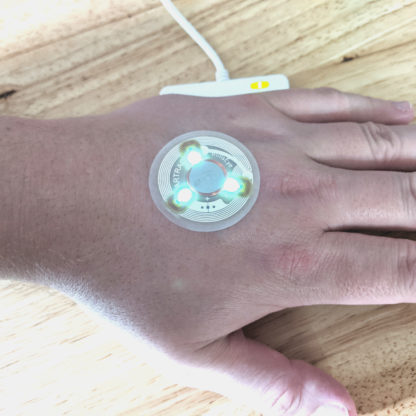 flexNExT (NTAG216 + T5577)
The flexNExT is a monster built for performance, and a little bit of flash 😉
0.4mm thin biopolymer, 41mm total diameter
35mm NTAG216 13.56MHz NFC Type 2 ISO 14443A inlay
NTAG216 has 2.25″ (57mm) range with ACR122U
2.75″ (70mm) range with T5577 and RedBee LF reader
The flexNExT is discontinued.. read why here.
More Details
WARNING This kit definitely contains dangerous things. The flexNExT transponder has not been tested or certified by any regulatory agency for implantation or use inside the human body. Use of this device is strictly at your own risk.
The flexNExT is a jumbo size flex version of our easily injectable 2mm diameter NExT dual frequency chip implant. It has the same NTAG216 and T5577 chips inside, only super sized to drastically improve performance… and we can put some blinky lights on too.
Professional installation notes
Installation of a flexNExT device should always be done by a professional. We do not presume to know better than your professional installer what the correct installation method for your body and desired implant location might be. Always defer to your installation professional's opinion on placement and installation procedure.
Do not install under any gripping surface (e.g. no palm side installations)
Do not install atop or parallel to any joints (flex devices are only "semi-flexible")
Important Things To Know
Please expand the sections below to read up on things like performance expectations, return policy, installation procedure, etc.