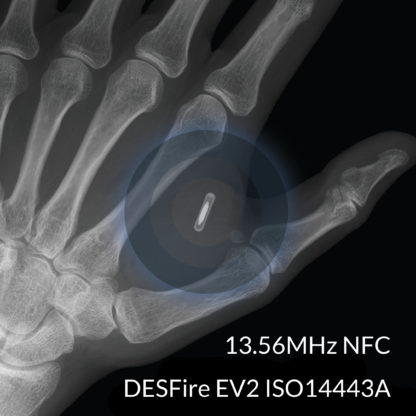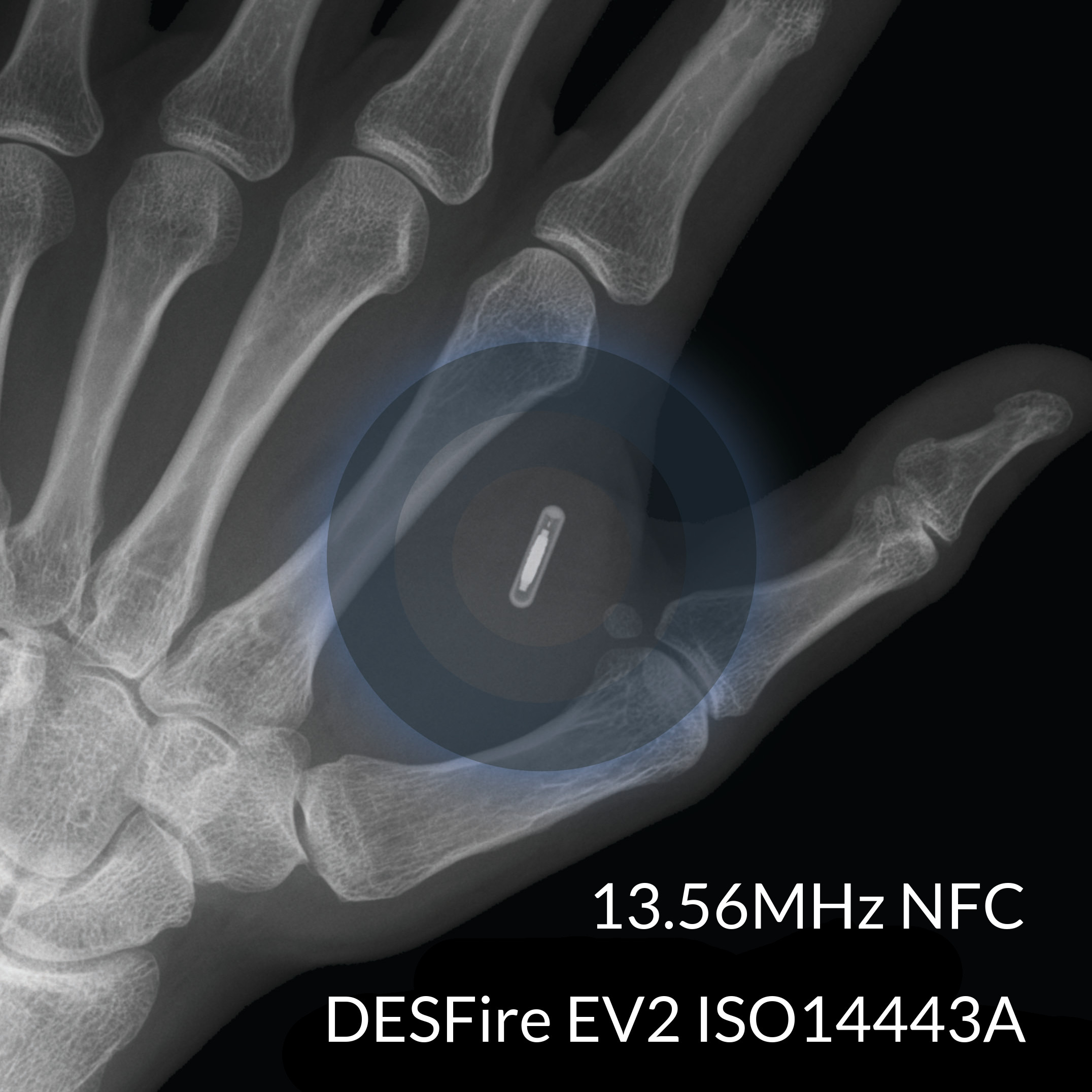 xDF2 DESFire EV2 8kB NFC
13.56MHz ISO14443A & NFC Type 4 chip
Huge 8kB multi-application memory space
3x13mm cylindrical sterile bioglass implant
RFID Diagnostic Card and xLED-HF included!
More Details X-Series FAQ Partner Map
$139.00
Out of stock
More Details
WARNING This kit definitely contains dangerous things. While the xDF2 chip has undergone several quality checks during manufacture and has been put through a battery of tests, it has not been certified by any government regulatory agency for implantation or use inside the human body. Use of this device is strictly at your own risk.
The xDF2 NFC chip implant is an ISO14443A NFC Type 4 compliant transponder. It works with NFC enabled smartphones, certain commercial access control systems, various ISO14443A compatible door locks, as well as USB contactless ISO14443A readers. The DESFire EV2 is a very powerful chip, capable of doing much more than simply holding NDEF record data for simple NFC applications. The true utility of this chip is best utilized by programmers and engineers, but there's also nothing wrong with storing a lot of NDEF data on it either. The xDF2 has enough space you could store a vCard digital business card complete with all your contact information and even a small photo of yourself on this chip with space to spare!
The xDF2 also comes with some additional goodies, including a xLED-HF field tester, and the RFID Diagnostic Card. The RFID Diagnostic Card is a nifty little tool you can use to easily detect what frequency and duty cycle any contactless reader is operating at. What it does not do is tell you where and how to place your xDF2 on the reader to get the best performance. That is where the xLED-HF Field Tester comes in. Place the xLED-HF up to a 13.56MHz reader and begin moving over the surface of the reader while trying different rotational orientations. Once the white LED inside lights up you will know that placing your xDF2 up to that reader in the same location and orientation will yield the best performance.
What can this chip implant do?
• Some types of access control applications
• Share data with NFC enabled smartphones
• Trigger events on NFC devices like smartphones
• Scan this chip implant to log into your computer
What this chip implant can't do
• Can't copy other chip IDs to this chip, ID is set
• Can't make payments with this chip implant
• Chip implants can't be used for GPS or tracking
Important Things To Know
Please expand the sections below to read up on things like performance expectations, return policy, installation procedure, etc.