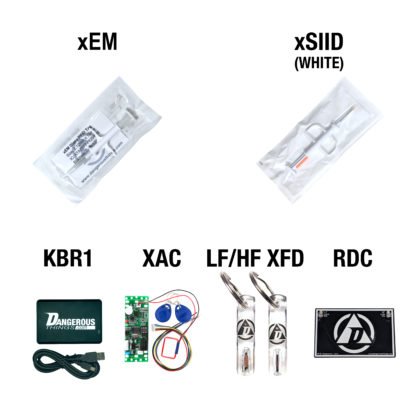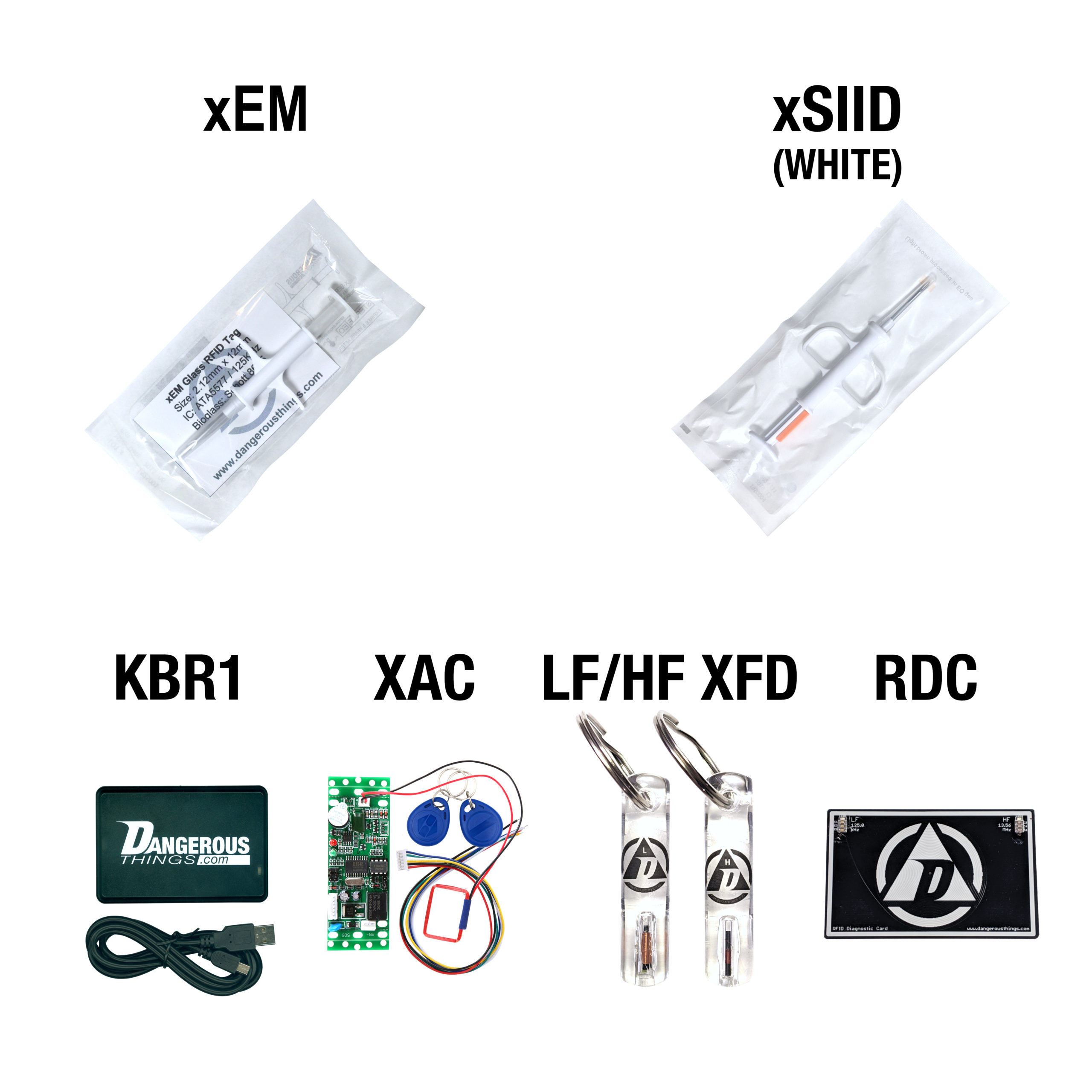 White xSIID Bundle
The White xSIID Bundle includes two great chip implants and a ton of bundled accessories and tools! Our classic xEM chip implant contains an extremely versitile T5577 emulator chip which can be programmed to emulate a huge range of 125kHz LF cards, badges, and keyfobs. Also included is the venerable xSIID NFC chip implant with white LED indicator! The white LED shines brightly under the skin when the xSIID is being powered by a reader field.
xEM T5577 125kHz emulator chip implant
xSIID NTAGI2C 13.56MHz NFC Type 2 chip implant
Includes field detection accessories
Access Kit included (xAC + KBR1)
Optional Proxmark3 RFID tool add-on
Check out our community showing off their blinkies!

More Details X-Series FAQ Partner Map

$204.02 – $287.36
More Details
WARNING
This kit definitely contains dangerous things. While our chip implants have undergone several quality checks during manufacture and have been put through a battery of tests, nothing has been certified by any government regulatory agency for implantation or use inside the human body. Your personal decision to purchase and ultimately the safe use of these devices is strictly your responsibility and at your own risk.
White xSIID Bundle
*1 sterile injector, pre-loaded with xEM 125kHz T5577 chip implant
*1 sterile injector, pre-loaded with white LED xSIID 13.56MHz NFC chip implant
4 single use ChloraPrep antiseptic wipes
2 sterile gauze pads for post-injection wound care
2 sterile expandable-fabric adhesive bandage
2 pair of non-sterile, non-latex procedure gloves
*All chip implants are tested for function before loading into the injector assemblies, and the whole injector assembly with chip inside is EO gas sterilized.

xSIID Chip Implant
The xSIID is a next generation NFC compliant microchip implant which leverages the SIID, an innovative OEM module design from Dsruptive. The module houses both an NTAG I2C NFC chip and an LED indicator tied to the energy harvesting pins of the NTAG I2C. This design ensures the LED does not interfere with operation of the NFC chip and always receives filtered power output regardless of field variance. The xSIID comes in a variety of colors and offers the 1kB (888 bytes) user writable memory. You can store website URLs, contact details, or arbitrary binary data and share that with anyone who scans your xSIID with an NFC enabled smartphone!
xEM 125kHz T5577 Chip Implant
The xEM implant contains a 125kHz T5577 RFID chip emulator that can behave like many different common low frequency chip types, including EM41xx, EM4200, HID 1326 ProxCard II, HID 1346 ProxCard III, Indala, Pyramid, Viking, AMV, Presco (and more) access cards and keyfobs. The xEM is a great introductory chip for people just getting into RFID projects. It is compatible with many inexpensive OEM and commercial low frequency RFID readers and stand-alone access controllers like our xEM Access Controller. Check out our video explaining how the T5577 works.
Field Detection Tools
The following accessories also come with the standard kit. These accessories are "field detection" tools designed to assist you with identifying the type of readers you may encounter, but also the best location and orientation to present your chip implant to any reader to get reliable performance.
Our X Field Detectors (xFD) will show you the best position and orientation to present your chip implant to any readers of the same frequency, while our RFID Diagnostic Card will tell you all about the frequency and duty cycles of random readers you encounter in the wild.

Access Kit
The Access Kit add-on includes our two most popular access control devices. Watch the unboxing video to see what's inside!
xEM Access Controller
The xEM Access Controller (xAC) is a stand-alone access control module that works with any chip implant with a 125kHz T5577 chip inside to allow (or deny) access to anything you wire it into!
Projects people have created with the xAC v2
Here are some projects on our community forum that utilize the xAC v2;
• Garage door opener project
• Unlock the car
• Gun safe upgrade
• Wall safe upgrade
• Another garage door opener
• Start the car
• Magic toolbox
KBR1 Keyboard Wedge Reader
The KBR1 keyboard wedge reader is a USB device that acts like a keyboard when plugged in! If you present any 13.56MHz ISO14443A NFC chip to the KBR1, it reads the UID (serial number) and "types out" that UID as if someone had typed it on a keyboard. This can easily be used as a simple but effective computer login solution for Windows or Mac!
ADD ON: Proxmark3 Easy
The Proxmark3 Easy is the world renown and de-facto standard premiere RFID research and programming tool. *slaps box* This baby will read, crack, clone, and program just about any RFID or NFC tag you come across. It slices, it dices, it mixes, it fixes! Seriously, if you want to do anything with programming or cloning chips, this is the tool to use.