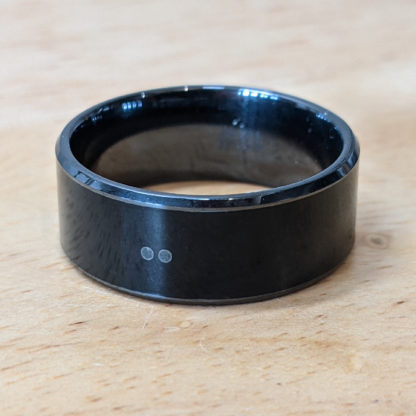 Magic Ring (Magic Mifare 1k + T5577)
The Dangerous Things Magic Ring is comfortable ceramic ring with a very nice black finish and simple chamfer edge. Hidden inside the ring are two fully programmable RFID chips – a 13.56MHz Mifare 1k Magic gen2 chip and a 125kHz T5577 RFID chip. The 4 byte ID of the Magic gen2 chip can be reprogrammed and used with legacy ISO14443A RFID systems. The RFID side with T5577 chip can be reprogrammed with the Proxmark3 to emulate a large array of common 125kHz work badges, key fobs, and access cards.
CHECK THESE LINKS BEFORE YOU ORDER!
• Follow our ring sizing guide.
• Review our ring return policy.
$59.00 – $186.84
Ring Sizing Guide
The most frequent reason customers wish to return or exchange their purchase of a smart ring wearable is due to sizing problems. We have created a ring sizing guide to help determine the correct ring size before placing an order. A universal standard paper size does not exist, therefore we've created a US Letter size (8.5″ by 11″) version of the guide, and an international A4 size version of the guide. Print the appropriate size guide on your printer at 100% scale. Do not print using "fit to page" or any other setting which compresses the printed image.
Once you receive your ring, please check your ring's size is correct before doing any programming of the chips within the ring. Any returns or exchanges must be done before any programming changes are made to the chips inside the ring.
What can this product do?
• Copy both LF and HF chip IDs to this product
• Some types of HF and LF access control applications
• Log into your computer with this product
What this product can't do
• Share data with NFC enabled smartphones
• Can't make payments with this product
Technical Specifications
13.56MHz Magic Mifare 1k gen2
125kHz T5577 RFID Chip

125kHz EM41xx/EM4200/HID/Indala compatible T5577 RFID chip
Full datasheet for the Atmel ATA5577 chip
Pre-programmed in EM41xx mode with a 40 bit unique ID
ADD ON: Access Kit
The Access Kit add-on includes our two most popular access control devices. Watch the unboxing video to see what's inside!
xEM Access Controller
The xEM Access Controller (xAC) is a stand-alone access control module that works with the 125kHz T5577 chip inside the Magic Ring to allow (or deny) access to anything you wire it into!
Projects people have created with the xAC v2
Here are some projects on our community forum that utilize the xAC v2;
• Garage door opener project
• Unlock the car
• Gun safe upgrade
• Wall safe upgrade
• Another garage door opener
• Start the car
• Magic toolbox
KBR1 Keyboard Wedge Reader
On the other side of the Magic Ring, the 13.56MHz Magic Mifare 1k chip inside the ring can be used with the KBR1 keyboard wedge reader as a simple but effective computer login solution for Windows or Mac.
ADD ON: Proxmark3 Easy
The Proxmark3 Easy add-on gives you the world renown and de-facto standard premiere RFID research and programming tool. *slaps box* This baby will read, crack, clone, and program just about any RFID or NFC tag you come across. It slices, it dices, it mixes, it fixes! Seriously, if you want to do anything with programming or cloning your Magic Ring, this is the tool to use.